$CROD are tokens of the CRODO.IO platform that can be blocked in the form of stacking for 7 to 730 days. By locking tokens in the contract, users get a chance to redeem the allocation.
The blocking period is a multiplier that increases the amount of your Gravity according to the formula:

where "days" is the number of blocking days.
Let's use an example to break down how much gravity and what level you get with different investment options.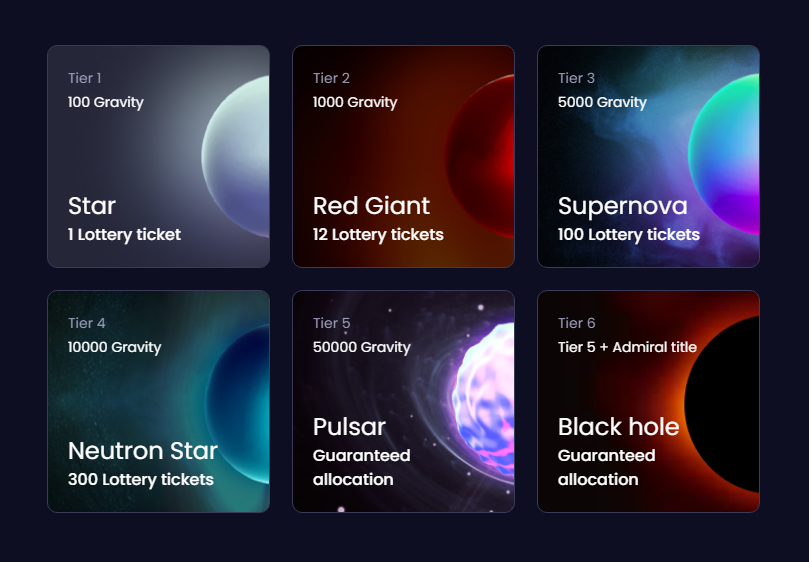 Steaking 65 CROD for 730 days = 103 gravity. This amount of gravity will give you 1 level (Tier 1) – Star, and allow you to receive 1 lottery ticket for the Allocation Drawing.
Steaking 630 CROD for 730 days = 1003 Gravity. This amount of gravity gives you a Tier 2 Red Giant and allows you to receive 12 allotment tickets.
Steaking 3145 CROD for 730 days = 5007 gravity. This will be enough to get you Tier 3 (Tier 3) – Supernova. Tier 3 gives you 100 tickets for the allotment draw.
Steaking 6300 CROD for 730 days = 10030 gravity. This is enough for a Tier 4 (Tier 4) – Neutron Star.
Steaking 31450 CROD for 730 days = 50071 gravity. That's enough gravity for Level 5 (Tier 5) – Pulsar. This level gives a guaranteed allocation.
Determine for yourself how many tickets you need, and calculate the number of CROD tokens you need for steaking yourself using this link.